This week I've observed anxiety wrap its tentacles around my house and around the globe. I've watched a great dystopian scavenger hunt for hand sanitizer, toilet paper, and homeschool resources. People have scheduled more Skype hangouts than they have energy for. They've overfunctioned for their neighbors, only to disappear from contact once they've exhausted themselves. Or they've lectured people aggressively online, and begged their family to behave a certain way.
In short, we try to manage everything except ourselves. We focus on what calms us down as quickly as possible, instead of what will keep us calm for the duration.
Have you done any of these things in the past week?
·      Reduced contact with family members to avoid their anxiety.
·      Assumed someone needed help without asking them.
·      Told your partner how or when to do their work.
·      Told people what to think before asking them what they think.
·      Panic-bought items you don't really need.
·      Overfunctioned for a child on a task or school assignment.
·      Lectured or begged your parents not to leave the house.
·      Went along with meeting in person when it felt unsafe.
·      Slacked on a responsibility because someone else would do it for you.
·      Called someone to calm you down before first trying to calm yourself.
·      Uber-focused on others' responses to the pandemic instead of your own.
·      Adopted the actions of others without considering your own situation.
If you answered yes, then you are not alone. Dial up the anxiety, put people in close quarters with family, and we all will revert to our automatic functioning. Every item in that list can calm you down quickly. But none of them address the level of chronic anxiety in ourselves or our communities.
In the past few days, I've noticed my own autopilot kick in. I've acted helpless when I'm perfectly capable. I've focused on criticizing others' responses to the pandemic instead of defining my own guiding principles. I've overfunctioned for others who are perfectly capable of managing themselves. So yesterday, I took the time to sit down and write out a few ideas that might see me through the uncertainty of the next few months or more. Here's what I came up with:
·      I will share my thinking instead of telling others what to do.
·      I will let my spouse be responsible for himself and his work situation.
·      I will focus on building one-to-one relationships with family and friends.
·      I will not gather information or problem-solve right before I go to sleep.
·      I will be realistic about what I can and cannot accomplish in a day.
This is just a start, and the ideas are very simple. But they begin to provide an alternative to my autopilot, which usually involves overfunctioning for everyone and then retreating from contact when I feel overwhelmed.  Or assuming I will be hyper-productive, and then beating myself up when I'm not.
There has been a lot of talk about how your individual efforts can help flatten the curve of COVID-19 cases, which is very important. But I also think that individual efforts to manage your anxiety, to carve out your own best thinking in these uncertain times, can help lower the amount of anxiety in your house, in your family, and in society.
Perhaps calmness and maturity aren't as contagious as COVID-19, but they certainly have an impact. Being responsible for yourself benefits everyone. So this upcoming week, here are some questions you can ask yourself:
·      What have I been doing to relieve my anxiety about COVID-19?
·      How effective has this been? Do these actions reflect my best thinking?
·      Is there a better, alternative way of functioning?
·      How can I put up with the discomfort of activating this thinking?
News from Kathleen
New Anxiety Journal! The folks at Hachette Books have helped me create a new digital resource to supplement your reading of my book, Everything Isn't Terrible. It's called Calming Down & Growing Up: A 30-Day Anxiety Journal, and it includes thirty daily prompts to help you reflect on and respond to your anxious behaviors, using the ideas in Everything Isn't Terrible. To get a copy of the digital journal, you can submit a copy of your receipt for my book at the Hachette page, and they'll send you it to you.
Buy my book! If you haven't gotten your copy of Everything Isn't Terrible yet, you can buy it from Amazon, Barnes and Noble, Indiebound, Target, or anywhere you buy books! But I encourage you to support your local indie bookstore. These days they can probably get it faster to you than Amazon! The book is also available in e-book and audio book form.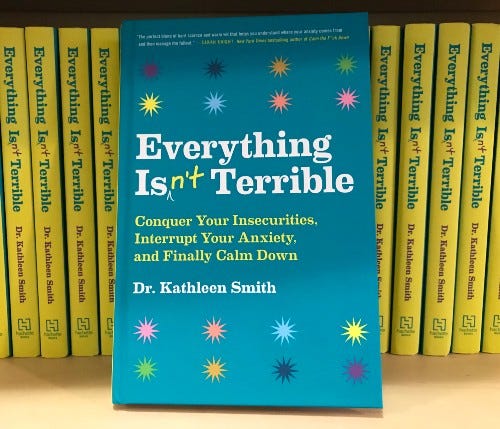 If you're new to the newsletter, you can check out my website for past newsletters about anxiety and relationships. You can follow me on Twitter, Facebook, or Instagram, or email me if you have questions about the book, want me to speak to your group, or want to learn more about my therapy practice in Washington, DC. You can also visit the Bowen Center's website to learn more about Bowen theory, as well their conferences and training programs.