The first line in my book reads, "We truly live in anxious times." And 2020 is surely living up to this statement. Over the last week, I thought a lot about writing a newsletter telling you how to stay calm as we figure out how to respond to COVID-19. But I'm not convinced that my thinking is more useful than your own.
Instead, I'm sharing 20 questions with you to help you do your own best thinking about how to respond to the problem, whatever the reality of your community, your family, and your own health. Read through them, and see what questions stand out to you.
What reality-based problems do I need to solve today?
What information do I need today?
When is the best time of day for me to read the news to update myself?
What's the difference between thoughtfully and anxiously focusing on this problem?
How can I hold onto my best thinking when others are panicking?
How can I be a resource to others without becoming over-responsible for them?
How can I make time to define my principles for navigating this problem?
How can I share my thinking without trying to force others to follow it?
How do I know when I am anxiously avoiding the problem?
How might I automatically rely on others to reassure me or calm me down?
How can I stay calm and stick with a decision I've made, when others may disagree or be upset with me?
What does it look like to think flexibly, and allow for new information to inform my decisions?
What are my responsibilities to myself, my family, and the larger community?
What does it look like to be responsible for my health during this time?
What anxious behaviors or habits might get in the way of this responsibility?
How can I stay in emotional contact with others if in-person contact becomes limited?
What people in my life are examples of maturity who can be useful to me at this time?
In what relationships might reactivity and anxiety be high during the next month?
How might I sink into immaturity in those relationships?
What would be the evidence that I am handling this problem with maturity?
Would you add any to this list? Feel free to email them to me. I'll be back next week with more thinking. Until then, cheers to doing your best thinking in a very anxious world.
News from Kathleen
Buy my book! If you haven't gotten your copy of Everything Isn't Terrible yet, you can buy it from Amazon, Barnes and Noble, Indiebound, Target, or anywhere you buy books! But I encourage you to support your local indie bookstore.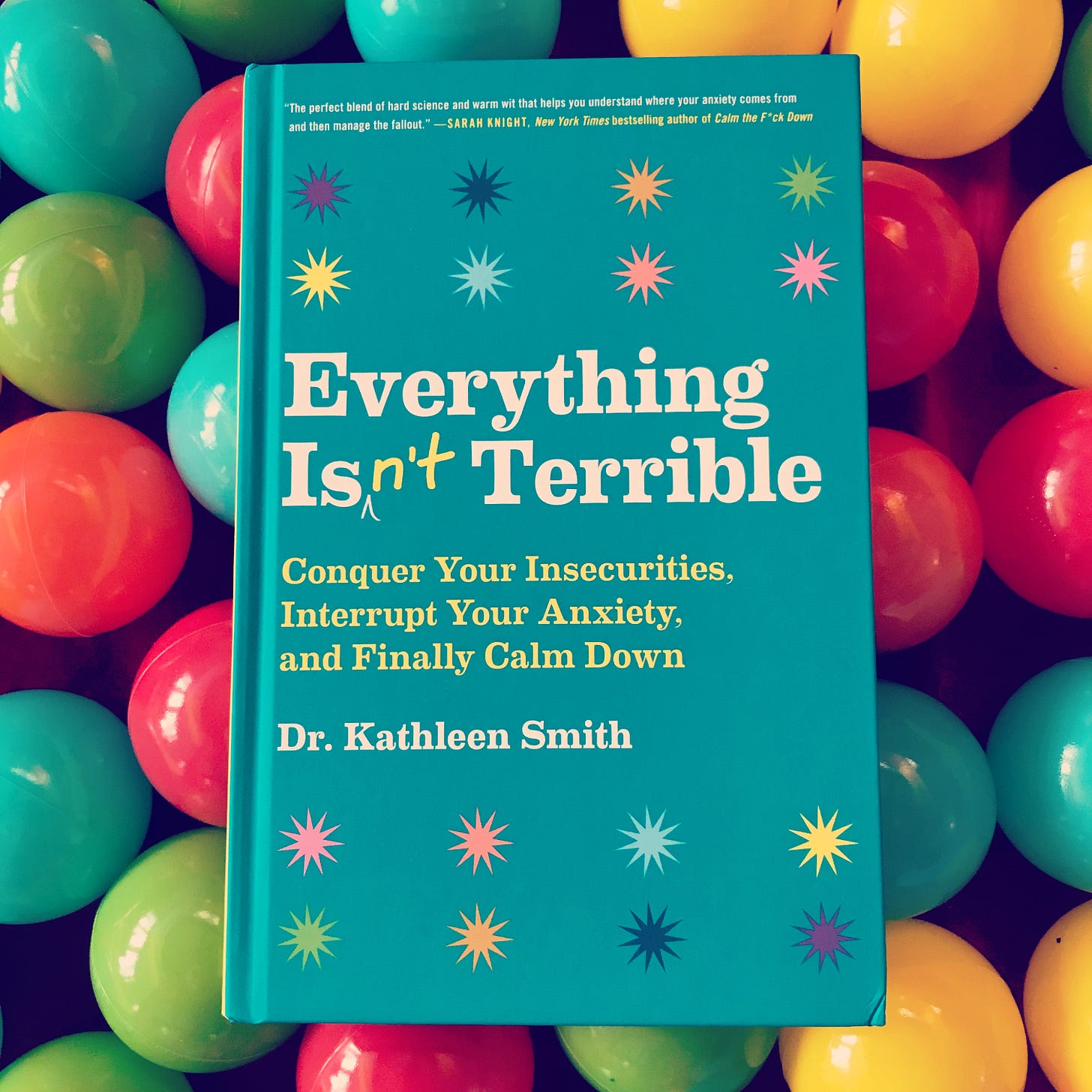 Coming Soon! I have created some more awesome bonus materials that Hachette Books is going to be sending to newsletter subscribers who have bought my book, so get your copy soon if you haven't already.
Catch up on my podcast interviews:
#AmWriting Podcast – Listen to me talk with two fiction writers about how to use family systems thinking to create a dysfunctional fictional family.
I Do Podcast – I talked about how we use our partner to manage anxiety, and how that can get in the way of growing up and have richer relationships.
The Second City Works – I had a wonderful conversation about Everything Isn't Terrible and living in an anxious world with Kelly Leonard.
The No BS Anxiety Talk Show –  More talk about the book and Bowen theory.
Read my other writing:
Read my latest essay at Medium's Forge about why I avoid using the word "toxic" as a therapist.
If you're new to the newsletter, you can check out my website for past newsletters about anxiety and relationships. You can follow me on Twitter, Facebook, or Instagram, or email me if you have questions about the book, want me to speak to your group, or want to learn more about my therapy practice in Washington, DC. You can also visit the Bowen Center's website to learn more about Bowen theory, as well their conferences and training programs.