The other day, one of my publishers posted a picture of my book, Everything Isn't Terrible, on social media. I try my best not to read people's comments, but I couldn't help but notice one:
The planet is BURNING, DROWNING, DYING! We need to STOP looking at ourselves, like the NARCISSISTS we are AND BE PROACTIVE about why we were put on this Earth.
While I appreciate the passion and urgency of ANGRY COMMENT person, I have to disagree with them. Looking at ourselves, and harnessing our ability to act outside the bounds of a panicked, reptilian brain, is exactly what makes us human. And it's exactly what will save us and the planet from ourselves.
It's a common sentiment these days that if you're not angry or anxious, then you're not paying attention. Perhaps this is true—it's impossible to read the news and not feel fearful or hopeless. How we choose to respond to these facts, however, is more interesting to me than the degree of our panic. Because when we feel panicked about politics or the environment, often our reactions become more about relieving the anxiety we feel in the moment than about generating thoughtful, reality-based solutions to the world's problems.
Rapid, emotion-filled responses can be an important part of change. But so is the steady, daily work of responding to complex problems. It is deeply uncomfortable to know that throwing money at a problem, shouting at someone on Twitter, or attending a few protests isn't going to fix everything. So uncomfortable that it's easy to lose focus and simply react to news cycles, instead of staying in touch with the longer story of a global problem.
As a therapist, I often ask my clients to describe the difference between reacting anxiously to a problem and responding to it with their best thinking. Because in our families, our work, and the larger world, we are doing the former a good 90% of the time. Here are a few examples.
Reacting: Throwing money at a crisis without bothering to continue educating yourself about the problem.
Responding: Evaluating how you can best invest your attention and resources to help solve a problem.
---
Reacting: Anxiously fixating on the daily news cycle.
Responding: Defining your values and seeking daily opportunities to operationalize them.
---
Reacting: Shouting at others to change their behaviors.
Responding: Defining how you want to function and modeling it for others.
---
Reacting: Avoiding the news.
Responding: Engaging a subject by gathering the facts.
---
Reacting: Giving up because your contribution feels too small to make a difference.
Responding: Trusting that good thinking is contagious if you calmly live out your principles.
Reacting can feel very effective because it can temporarily calm the anxiety of the moment. But responding takes a willingness to put up with the discomfort that lasting change takes time.
I have been following Jane Fonda's Fire Drill Fridays in the news, and I think they are a great example of operationalizing your best thinking in a world on fire. Fonda decided that for fourteen Fridays, she was going to show up for climate crisis protests. She has explained how she has made changes in her daily life, like not buying any more clothing. She can tell you that she weighed the pros and cons of flying on a plane to come to the protests, and decided that it was worth it.
Now you might think that this is not enough, or not the right approach, but you can't deny that it is a response and not a reaction. It is her attempt at living out her principles and encouraging others do the same.
I cannot overstate how impossible it is to respond thoughtfully to a crisis if you do not have a plan. So if the election is important to you, what is your plan as a citizen? If the climate is important to you, how are you going to define and operationalize your best thinking? There will be lots of opportunities to react quickly to daily crises, but how will you stay in contact with the bigger story?
2020 is still young, so it's a great time to sit down and write down your own instructions for living in a world on fire. Who are you going to be on days where it feels like there's not enough money, time, or people to solve the world's problems? Are you going to be a person who distances from the problem, or a person who tries to bully others into maturity? Or will you be a person who has their operating instructions in front of them, illuminating the way on the dark days.
Your instructions may change over time. But starting somewhere is better than the alternative—letting your anxiety run the show. There is a time for anxious fixing, but there is also a time for our best thinking. And I think that time is now.
Book News
If you haven't gotten your copy of Everything Isn't Terrible yet, you can order it from Amazon, Barnes and Noble, Indiebound, Target, or anywhere you buy books! But I encourage you to support your local indie bookstore.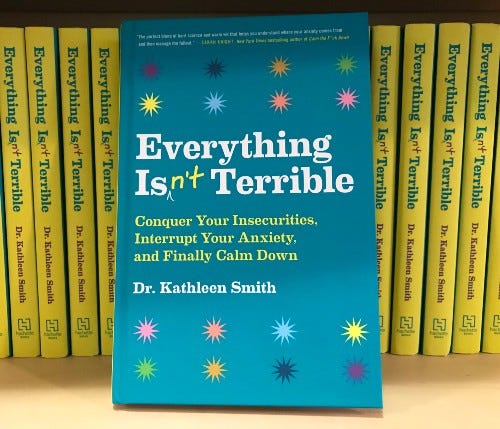 Thank you to everyone who came out to the book events in DC and Asheville! It was great fun to share the book with you and answer your questions. My next event is January 21st in Columbia, TN.
Watch my interview last week from Good Morning Washington, where I give a few tips for living a less anxious 2020.
Connect With Me
If you're new to the newsletter, you can check out my website for past newsletters about anxiety and relationships. You can follow me on Twitter, Facebook, or Instagram, or email me if you have questions about the book, want me to speak to your group, or want to learn more about my therapy practice in Washington, DC.